#GEMAB21 Ambassadors: Benjamin Eimers – Germany 🇩🇪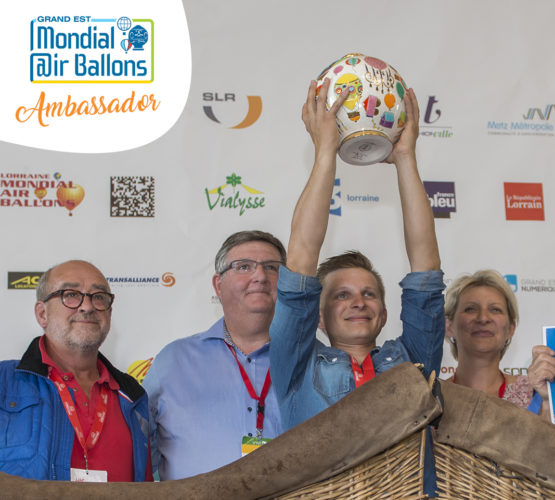 I have been a hot air balloon pilot for 13 years and have more than 1100 hours of flight. I have flown across many countries also in a gasballoon (Mexico, USA, Philippines,…)
One of my favourite flights in a hot air balloon was a record flight with a distance of 1025 km in 2011 with Frank Wilbert. We launched close to Dusseldorf to land almost 10 hours later by Toulouse.
My first time to the Grand Est Mondial Air Ballons was in 1989 with my family.. GEMAB is always a beautiful scenery and a place you have to stay for 10 days every two years, fun with friends and family in combination with beautiful balloon flights is wonderful. Among my favorite moments, I have two very good memories: Taking off into the night with gas balloons from Chambley and Staying at the stage to get the trophy of GEMAB in 2015.
The colorful scenery at a sunrise flight is almost a very special moment and every flight you feel confirmed to come back in two years. When passengers in Germany ask me where they can see more than one balloon, I tell them to go to the GEMAB festival. That is a beautiful place to see a balloon festival you will not be able to see in Europe anywhere. Before I try to explain it with words I show them pictures ready to show on my mobile phone..
I also have been everywhere in the region of Grand East during bad weather periods. Beautiful cities, very good food, nice landscape.
A really good anecdote about GEMAB : We flew in the morning and after a while we came back with the balloon to the launch field flying the box. Close to a catering tent we flew very low over some people sitting at a table watching all the balloons and they felt obliged to hand us champagne into the basket. Of course we accepted (not the pilot) 😉
Soft landings! Benni