Here we are!
From April 5th 2019 we publish every week, the videos of our 16th #GEMB19 Ambassadors on Grand Est Mondial Air Ballons Facebook page → CLICK HERE
From today, Monday May 27th and until June 17th 2019, we offer you the possibility to vote for your #GEMAB19 favorite Ambassador.
They are pilots, event organizators, crew team chief, constructors… Every one of our Ambassadors is promoting and developping ballooning around the world.
Our 16th Ambassadors: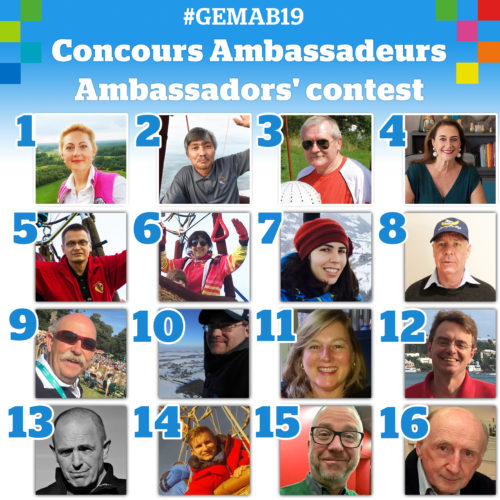 1) Inga ULE – Latvia
2) Mohammad SOBRI SAAD – Malaysia
3) Wlodzimierz KLOSEK – Poland
4) Escandra SALIM ALLE – Mexico
5) Hans PRAVDA – Austria
6) Judy HOLT – USA
7) Neus LLADO-GAMBIN – Spain
8) Richard BOVELL – South Africa
9) Joe Daly – Ireland
10) Benoît LAMBERT – Belgique
11) Desiree HEAD – USA
12) Rick JONES – USA
13) Richard GRATZ – Czech Republic
14) Benjamin EIMERS – Germany
15) Thomas SEIZ – Swiss
16) Don CAMERON – United Kingdom
We rely on you to share at maximum every one of their videos and pictures and vote. You need to note the number of the ambassador in comment of this Facebook post: https://bit.ly/2K4lmLc
To easily find their different videos, you can go to our Youtube Channel: https://www.youtube.com/user/PDROrganisation/
Thank you very much for your participation.
#GEMAB19 beggins on July 26th, it's coming fast. We are looking forward to welcoming all of you on the aerodrome for 10 wonderful days.