#GEMAB21 Ambassadors: Joe Daly – Ireland 🇮🇪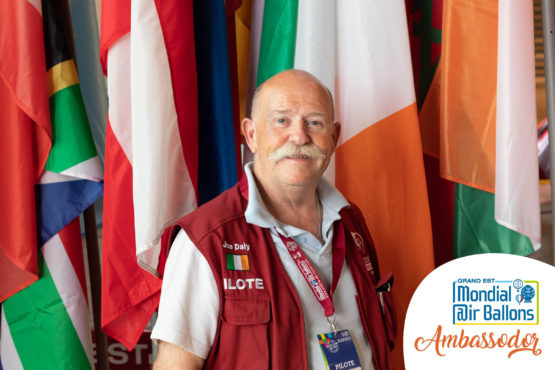 I am a hot air balloon pilot since 17 years and I have more than 550 hours of flight. I had the chance to fly across Ireland, Italy, France, Germany and Holland.
I know the Grand Est Mondial Air Ballons for 12 years ! We come back to Chambley because we just love the friendly and amazing atmosphere. We make lifelong friends every time we visit there and not just ballooning people. It is so special that my son is now a pilot and is the youngest pilot in Ireland at 22 and he is already a veteran of GEMAB, having come second overall last year!! The scale of the event is incredible and gets better every year.
One of my favorite moments is the day of the Great Line. I love the inline take-off where everybody pulls together to try to beat an amazing record and then to see so many balloons in the air. We then have our Irish night to celebrate regardless of the outcome!!.
It's an incredible feeling especially that it cannot be captured by photo or video. It's an experience that can really only be imagined until you do it for real.
Visiting Chambley is an experience not to be missed. Apart from the incredible view of all those balloons around you in beautiful weather, the people you meet become lifelong friends. The combination of opportunities to fly effortlessly one day and with great challenges another is an experience unparalleled.
During our free time, we took the opportunity to visit the region. The lakes are great to have lunch beside and to visit the cities and see the amazing history which is so incredible. Being invited by numerous families to their homes is a really lovely heartwarming experience.
My favorite anecdote about #GEMAB is : When we are in Chambley we have a special Irish night and it always amazes me how many French pilots and crew become Irish for that night!!!