Need a last minute gift idea? An idea to spend your gifts? Or you just want to extend Christmas Magic?
This year, did you think about the exceptional, the sensational and the unforgettable? A hot air balloon first flight! To dream with open eyes… and not just anywhere, during Grand Est Mondial Air Ballons 2019 #GEMAB19 of course! 😉
An extraordinary experience, an ascent between hundred of colored bubble under the sweet summer light, evening or morning. Come take up height, enjoy a new point of view over the beautiful landscapes that surround Chambley aerodrome!
An unforgettable gift to offer (or to offer you!) for festive season…
Hurry up to book your flight on the event official online ticketing : https://bit.ly/2DUZoZR
Info and contact: vol@pilatre-de-rozier.com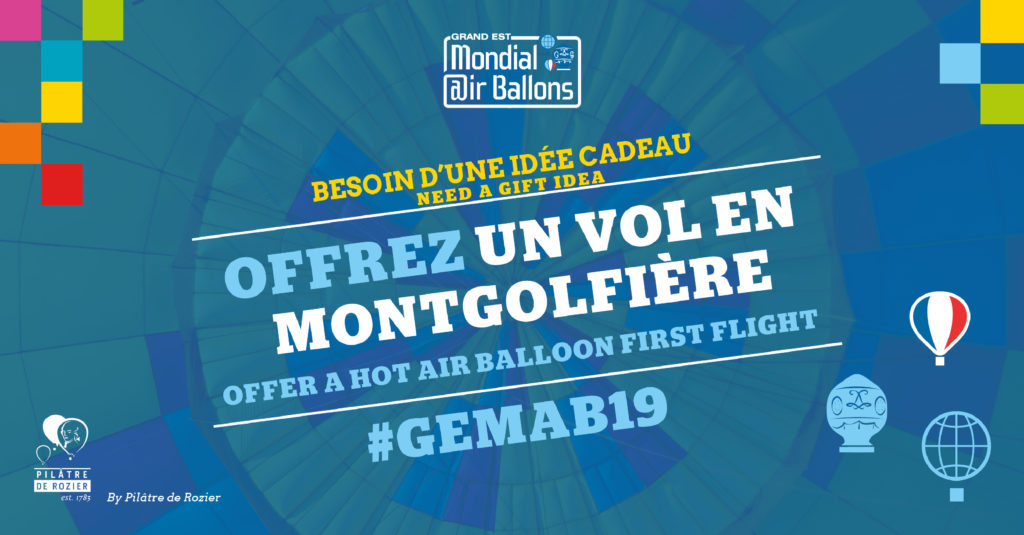 All the team #GEMAB19 wishes you a merry Christmas and happy New Year!
Hoping to get the pleasure to meet in the event's sky next summer…
© Photo en-tête : B. BOS