The largest propane station in the world
Crucial step to refill the gas cylinders and get ready for the next flight. On the Chambley aerodrome, more than 500 pilots refuel after each mass flight (2 per day). And of course, who says exceptional event says exceptional gas station.
Since 2011, GEMAB has a LP gas station unique in the world on the Chambley aerodrome. Equipped with 150 filling points, it allows balloon cylinders to be filled in a record time and in total safety. It is simply the largest station in the world.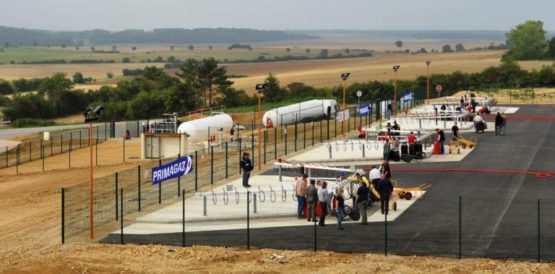 The 150 tapping points are supplied by 2 pumps with a flow rate of 13 m3/h each connected to a 30 m3 tank. They allow as many cylinders to be filled simultaneously. Whereas the old installations required a filling time of 20 minutes per propane cylinder, generated waiting times of several hours and infringed on the crews' rest schedule. This contributes to freeing up time out of flight. To the general satisfaction of the pilots. In 2021, it celebrates its 10th anniversary!
The only negative point is that the refreshment bar has no reason to be anymore, we don't stay long enough for that. But you can always find your friends in BallonVille Pilot to talk about your flight.
GEMAB's gas refuellings are indeed important moments when the pilots exchange, discuss and show each other pictures of their flight, or swap a few souvenirs. Without forgetting to respect the safety instructions.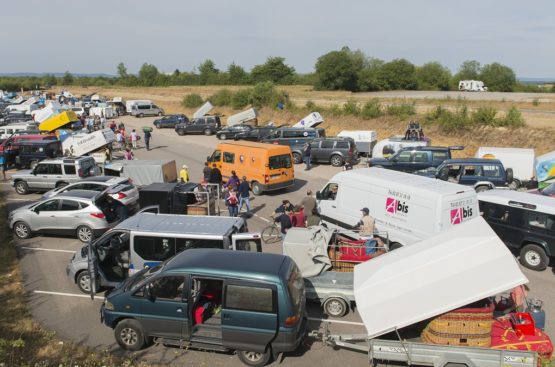 An eco-friendly station
The great innovation you discovered at #GEMAB19 was the « greening » of the station. To fight against global warming, the organisation has innovated and now offers bio-propane with its partner Primagaz. 
Biopropane allows a 78% reduction of CO2 emissions into the atmosphere compared to standard propane. This biogas comes from 100% renewable energy sources. Another positive point which contributes to the respect of the environment.
Unique in the world, this installation guarantees the Grand Est Mondial Air Ballons its status as an international reference and the satisfaction of the pilots who come from all over the world to fully enjoy the event.